BROWN VENTURE FOUNDERS
A Post-Graduate Program For Brown Entrepreneurs in Rhode Island
The Brown Venture Founders program is a new initiative of the Jonathan M. Nelson Center for Entrepreneurship in collaboration with the Slater Technology Fund, to support new Brown graduates who are building startups in Rhode Island. It provides a year of support to help young founders take their ventures from the campus where they were created into one of the region's exciting new innovation ecosystems.
We are excited to announce that we are contributing meaningfully to Brown University's strategic action plan: Brown and the Innovation Economy. In collaboration with community leaders and experts, the University has begun work on an effort to maximize its impact on innovation, entrepreneurship and job growth. The Jonathan M. Nelson Center for Entrepreneurship, along with the Slater Technology Fund, will be strategic partners in this effort.
One of the breakthrough action items in the strategic action plan is the launch of the Brown Venture Founders Program. This program motivates Brown student entrepreneurs to launch and grow their startups in Rhode Island after they graduate and fosters entrepreneurship in the local economy. A partnership between the Nelson Center for Entrepreneurship and the Slater Technology Fund, the initiative offers Brown startup founders grants of up to $50,000, dedicated mentorship, co-working space for their ventures, and other resources for growing their companies in Rhode Island. We are proud to announce that Michelle Petersen '18, co-founder of TextUp, has been named as the first Brown Venture Founder.
TextUp is a software company that dramatically improves the efficiency and consistency of communications for social workers, non-profits, and other organizations that provide long term care for their clients. Petersen said the Brown Venture Founders resource will be instrumental in allowing TextUp to transition from a school project into a sustainable venture.
Michelle Petersen '18, Founder of Textup
"This program gives me essential early-stage resources and the confidence I need to work on TextUp full-time after graduation," Petersen said. "I am honored to be the first of many Brown students who will have access to this bridge from researching problems to launching real-world solutions, and I am thrilled to build my venture in Rhode Island." Michele and her co-founder Eric Bai '15.5 were participants in the 2016 Breakthrough Lab, were one of the winners of the 2018 Brown Venture Prize, and won the 2018 RI Business Competition.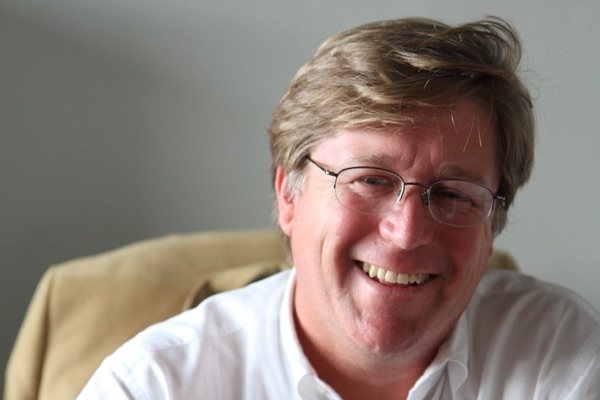 Thorne Sparkman, Managing Director of the Slater Fund
"Students in our universities will solve the great problems of our time – environmental, medical, societal," said Thorne Sparkman (pictured to the left), managing director of the Slater Fund. "Through the Nelson Center, Brown University is at the forefront of preparing its students for these challenges with entrepreneurship courses, programs, and venture support resources. We are proud to work alongside the university to support its efforts. Through the Brown Venture Founders program and beyond, Slater is excited to invest in the next generation of Rhode Island's entrepreneurial leaders emerging from Brown."
ELIGIBILITY
Brown undergraduates or graduate students graduating in December 2018 or May 2019, and recent alumni (within 3 years of graduation) are eligible to apply.

Applicants must be working on a high-impact venture of their own design and must be founders or co-founders of the venture (applicants who are working for a venture in another capacity are not eligible).

The applicant's venture must be based in Rhode Island for the duration of the one year program (and ideally the founder has plans to stay for longer than that).

While the Brown Venture Founders program is sector and status (for-profit/nonprofit) agnostic, the founder should have a thorough understanding of the customer/market problem they seek to address, be able to clearly articulate a solution hypothesis, and propose a financially sustainable trajectory for the venture.

Recipients must be working on their venture full-time.

If you have questions, please email elizabeth_malone@brown.edu.