Book Launch and Discussion: Danny Warshay's "See, Solve, Scale: How Anyone Can Turn an Unsolved Problem into a Breakthrough Success"
March 23, 2022 @ 4:00 pm

-

5:00 pm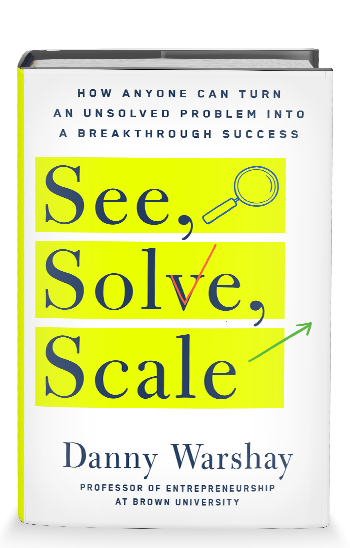 We invite the Brown community to attend this virtual book launch and discussion.
About this event
The Office of the Provost invites you to attend the book launch of "See, Solve, Scale: How Anyone Can Turn an Unsolved Problem into a Breakthrough Success" by Danny Warshay, executive director of the Nelson Center for Entrepreneurship, on March 23, from 4-5 p.m. ET. Provost Richard M. Locke and Danny Warshay will discuss the book with commentary from Professor Emeritus Barrett Hazeltine and Brown alumni entrepreneurs. A Q&A session will follow the discussion. All Brown students, alumni, staff and faculty are welcome to attend.
Closed captioning will be provided. To request additional accommodations or assistance for this event, please email universityevents@brown.edu.
Register
About the book
Inspired by his beloved Brown University course The Entrepreneurial Process, in "See, Solve, Scale" Danny Warshay, the executive director of Brown's Nelson Center for Entrepreneurship, shares a paradigm-shifting method to unlocking the power of entrepreneurship.
Warshay overturns the common misconception that entrepreneurship is a hard-wired trait or the sole province of high-flying MBAs, and provides a proven method to identify consequential problems and an accessible process anyone can learn, master and apply to solve them.
Combining real-world experience backed by surprising research-based insights, "See, Solve, Scale" guides the reader through forming a successful startup team and through the three steps of the process: find and validate a problem, develop an initial small-scale solution, and scale a long-term solution.
Leveraging Warshay's own entrepreneurship successes and his 15 years of experience teaching liberal arts students, "See, Solve, Scale" debunks common myths about entrepreneurship and empowers everyone, especially those other entrepreneurship books have ignored and left behind. Its lasting message: Anyone can take a world-changing idea from conception to breakthrough entrepreneurial success.
"Danny Warshay is an entrepreneurial hero unlocking the power of entrepreneurship for the rest of us. Read it, roll up your sleeves, and change the world."
— Andrew Yang '96, entrepreneur and nonprofit founder, former 2020 presidential candidate
"'See, Solve, Scale' is now my go-to recommended reading for all entrepreneurs we engage within the diverse communities we serve and beyond."
— Marcos Gonzalez '89, founder and managing partner of VamosVentures
Copies of the book are available for preorder wherever books are sold. Signed copies are available at the Brown Bookstore.