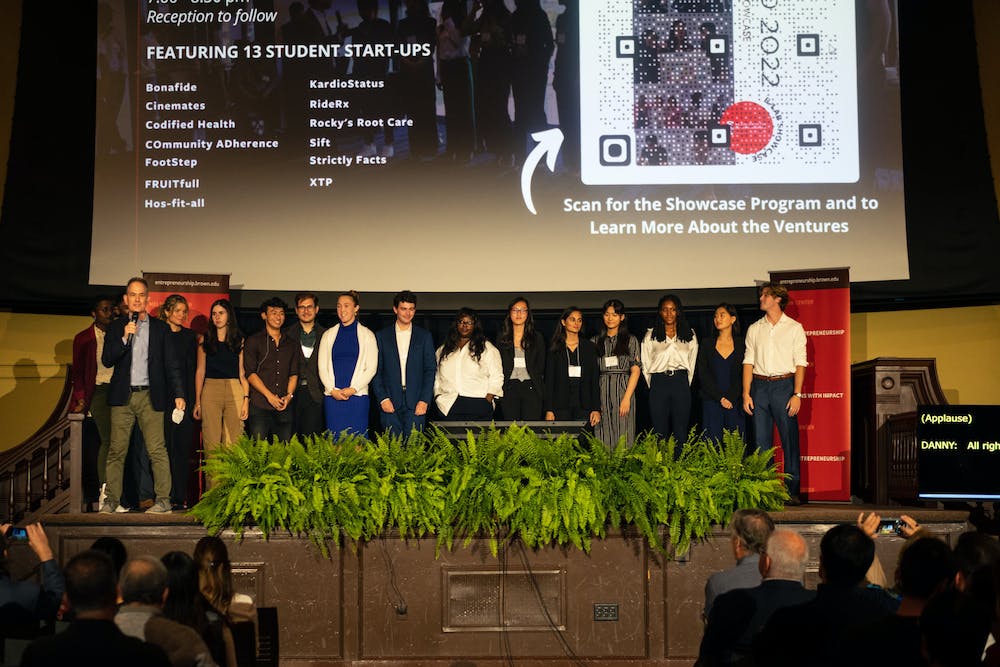 Accessibility, health equity and community take center stage in student B-Lab ventures
News from Brown,Maggie Spear, September 30, 2022
The work of the 2022 cohort of the Nelson Center for Entrepreneurship's student venture accelerator culminated in presentations and a community celebration, topped off with the surprise announcement of the Jason Harry B-Lab Leadership Award.
PROVIDENCE, R.I. [Brown University] — Dozens of student entrepreneurs celebrated the fruits of an intensive eight-week Brown summer program in entrepreneurial innovation during a showcase and closing ceremony for the 2022 Breakthrough Lab on Thursday, Sept. 29, in Sayles Hall.
The B-Lab students, who worked in small groups on 12 ventures ranging from connecting opioid use disorder patients with reliable transportation for treatments, to creating artificial intelligence-driven software to aid law firms with client intake, were welcomed to the showcase by Jason Harry, B-Lab director and a Brown professor of the practice in engineering, technology and entrepreneurship.
"Because we operate in an institution of higher learning, of course we want the ventures to make progress and be successful as businesses, but we also hold dear the progress of the individuals," Harry said as he welcomed students and attendees. "We are of course working on the ventures, but we are also working on the professional development of the students."
B-Lab is a student venture accelerator run by Brown's Nelson Center for Entrepreneurship. Each summer, a cohort of aspiring student entrepreneurs spends eight weeks learning from mentors and educators, attending workshops and collaborating with peer venture founders, all within a co-working space at the center. Eligible participants receive a $4,000 scholarly award, which makes the experience more focused and accessible, Harry said.
Rather than a pitch competition in which the students compete for funding — like the Brown Venture Prize — the showcase is an opportunity to culminate the eight-week experience and detail the development of their ventures in front of an enthusiastic audience of community members, potential investors, students, faculty, staff and Nelson Center entrepreneurs-in-residence.
Though each venture is unique, many were focused on the use of cutting-edge AI technology to advance accessibility, equity and community.
RideRx, for example, aims to solve the persistent issue of reliable transportation for patients trying to access treatment for opioid use disorder. Faster and more reliable than public transportation and more affordable than ride-hailing apps like Uber and Lyft, RideRx proposes a ride-share service for patients in which the drivers are peer recovery specialists.
"(The drivers) are individuals that know the struggle of addiction," said co-founder Otto Olafsson, a Brown senior concentrating in public health. "They also understand that treatment options exist and that recovery is possible. We hope that they will serve as peers and mentors for the patients that choose to ride with us."
Many ventures were focused on health and medicine, from medication adherence startup CoAd — a winner of this year's Brown Venture Prize — to automated long-term cardiac monitoring tech Kardio Status, and FootStep, which aims to develop a discreet way to ease freezing of gait — a common and serious symptom of Parkinson's disease that makes walking difficult.
Accessibility is the crux of Hos-fit-all (like "hospital"), an innovative design of a moveable modular negative pressure isolation room that serves as a timely response to the challenges of health care infrastructure. With a simple change of room settings, Hos-fit-all can be converted to food banks to address food insecurity, classrooms to address educational hardships resulting from remote learning, libraries to bridge the digital divide, and temporary housing units as a response to homelessness.
The groups Codified Health and Bonafide developed AI software, respectively, to streamline administrative medical-coding work for private-practice physicians and to facilitate smooth client intake processes for law firms. Sift, a browser extension designed to promote sustainability through secondhand shopping, automatically scans images and keywords on a webpage to find the most similar secondhand alternatives available for sale online.
In other ventures, Cinemates is a platform dedicated to community-based media recommendations. As history of art and architecture concentrator Tatiana Mandis noted in her presentation, the team's market research determined that only 28% of users trust movie or TV recommendations from an algorithm, while 93% trust recommendations from their friends and family.
All of the ventures highlighted the importance of building and maintaining community.
Strictly Facts aims to empower those with Caribbean heritage through culturally relevant educational products that prioritize underrepresented voices and make learning about Caribbean history and culture engaging. Rocky's Root Care, originally established as a sensitive-skin cosmetics brand, pivoted to focus on community gatherings designed to deepen meaningful connections to nature and share holistic healing practices. And technology company XTP aims to curate shared spaces for electoral participation, driving social experiences through art and design with the goal of reducing political polarization and increasing civic engagement.
Celebrating the impact of B-Lab and Jason Harry
Nelson Center Executive Director Danny Warshay took the stage once the pitches ended, thanking everyone for their work and speaking about Harry's impact on the program as he marks his seventh and final year as director of B-Lab.
"It's so hard to imagine B-Lab without him," Warshay said. "I looked back at some of the data associated with B-Lab, and it's really quite astounding."
During Harry's tenure, 233 students have gone through the program, representing 114 ventures, 30 of which are still active. Those ventures are now employing scores of people worldwide and generating tens and hundreds of millions of dollars in revenue, Warshay said. Seven B-Lab alumni have been named to Forbes' "30 Under 30 List" of early-career business and industry figures, and two were included in Forbes' "Next 1000" list of innovative entrepreneurs.
"An extraordinary track record over seven years of hard work by Jason," Warshay said. "… And to make sure we don't forget Jason, we will award the Jason Harry B-Lab Leadership Award to a deserving student every year that B-Lab continues to operate from here on out."
Harry appeared utterly surprised by the announcement, as the crowd extended a raucous standing ovation.
Jason Harry Leadership Award bobblehead
The Jason Harry B-Lab Leadership Award itself is a bobblehead likeness of Harry.In establishing the award, the center acknowledged Harry's impact and celebrated a student who embodies his bright, harmonious leadership style: Brown junior Estela Westphalen.
"Every once in a while, we cross paths with a person who can quietly anticipate what needs to be done, whose mere presence brings calm to the storm that sometimes erupts working with groups of people," said Nelson Center Assistant Director Sheila Haggerty, who presented the award to Westphalen.
Westphalen currently serves as B-Lab's programs and events assistant. In addition to always showing up, being consistently prepared and remaining undaunted by technical challenges, Westphalen "was like the gentle breeze that showed up right when all our brows were needing to be cooled," Haggerty said.
Keeping in Nelson Center tradition, the award itself is a bobblehead figurine of Harry — a nod to the center's Barrett Hazeltine Prize in Entrepreneurial Mentorship, a bobblehead of the eponymous professor emeritus of engineering known for his dedication to student mentorship, and in particular, for his mentorship of aspiring entrepreneurs.
In closing remarks, Harry said he couldn't think of a better recipient of the prize, then assured the audience that although he's stepping down as the program's director, he's not going anywhere.
"I will continue to be here at Brown University, doing the teaching thing in the School of Engineering, and I will still be heavily involved in the Nelson Center. The big difference," he said, pausing to take in the scene, "is that I might just have a little bit more time in the summer."