1 EUCLID AVENUE: OUR NEW HOME 
You may have heard that the Nelson Center for Entrepreneurship now has a dedicated home on the corner of Thayer Street and Euclid Avenue, right on the main commercial artery of College Hill. 
This home, located right across the street from the Brown bookstore, we hope will be an integral part of the Brown ecosystem. The built-from-scratch, 10,000-square-foot four-story building will provide space for new student ventures, events, entrepreneurs-in-residence, visiting faculty and student organizations, like Brown EP.
As we explained in Brown's official announcement, "This will encourage the kind of accidental collisions between experts and disciplines that are central to entrepreneurship and to the missions of both the center and Brown."
We would like to thank all the people involved in this process, especially Jonathan M. Nelson '77, whose $25 million transformational gift has catalyzed the center's launch, the brilliant architects at 3SIXØ whose eye for design has made this space ideal for collaboration and community, and all of our friends whose generosity has made our new building possible: Charles M. '82 and Jan P. Davis '83, Liz Lange '88 and David E. Shapiro, Christian J. Anthony '96 and M. Hilton Locke, Greg '83 and Anne Thorson, Victoria S. '91 and Henry J. Rotenstreich, Steven B. '87 and Sarah C. Kaufman '87, Kenneth S. Orkin '84 and Sondra Baker.
Welcome! We hope to see you soon.
Danny, Jonas, Liz, and Abi
Work Spaces
We have nine niche spaces available for anyone to use, first-come, first-served. These spaces provide a quiet space for work and brief phone calls. On the 2nd and 4th floor, you will find open workspace available to anyone on a first-come, first-served basis. Continue reading to learn more about the Nelson Center building.

2nd Floor
The second floor at the Nelson Center serves as prime programming and gather space. When you enter you will find a kitchenette, a conference room, three niche spaces, an office, and the Liz Lange Lecture Hall.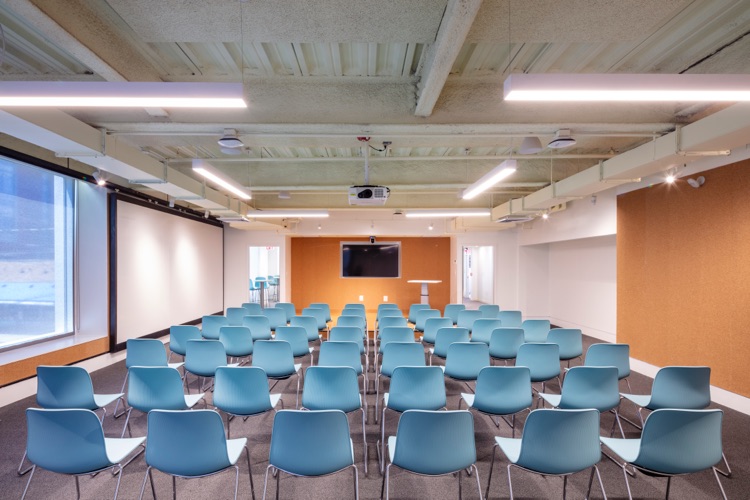 LIZ LANGE LECTURE HALL
Complete this reservation form detailing your reservation request. After the Nelson Center staff has a chance to review your request and space availability, you will hear back from us. Please contact abigail_durmaz@brown.edu with any questions. You can review the calendar availability here.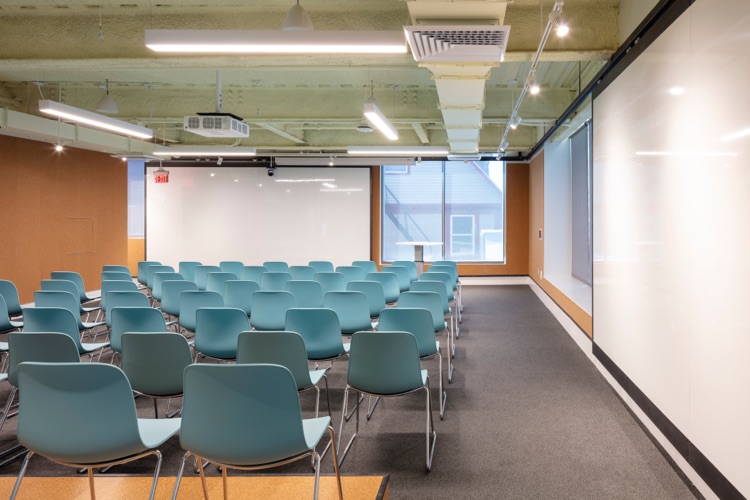 THE ROTENSTREICH CONFERENCE ROOM
The Victoria Shonfield Rotenstreich '91, P'20, P'22 Conference Room on the second floor is equipped with a projector, screen, and conference call capabilities. You may email Abi Durmaz, abigail_durmaz@brown.edu to reserve a room for your meeting, or if you would like to meet on the spot, you can easily reserve space using touch panels directly outside the room.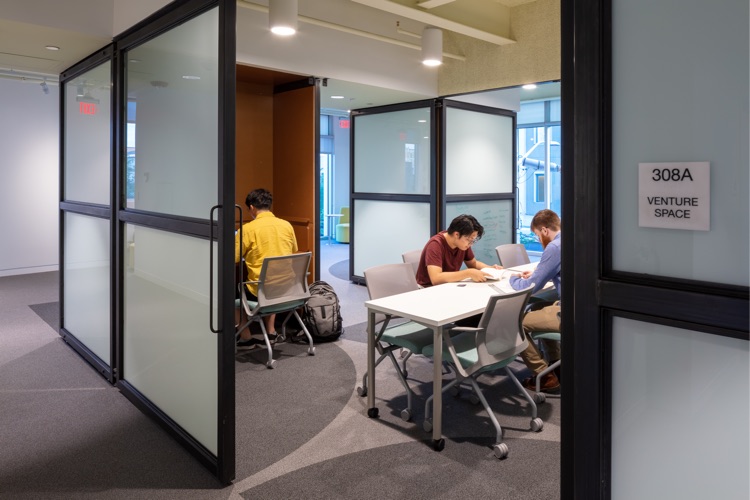 DEDICATED VENTURE SPACE
We offer dedicated venture space on the 3rd floor on a semesterly basis. Teams who wish to apply for venture space must do so in advance of the semester in which they need it. In December, we will open applications for spring semester.