Jason Harry, Breakthrough Lab (B-Lab) Director and the Hugh Pearson Professor of the Practice of Technology and Entrepreneurship in the School of Engineering, will lead a discussion on the important nuts and bolts of advising through our venture development process.
RSVP
Join the Nelson Center for Entrepreneurship faculty for our second conference examining entrepreneurship at the intersection of women, refugees, immigrants, allyship, and anti-Black racism.
REGISTER
Nearly five years have passed since our 2016 launch following a generous founding gift from Jonathan M. Nelson '77 P'07 P'09. In the coming months, we are excited to catch up with alumni, students, faculty, staff, and friends to share and reflect through a Nelson@5 video series commemorating highlights and milestones. Watch our first video below!
Entrepreneurship & the Open Curriculum
In order to continue providing this investment education program for students, Bob '75 and Erna Place '76 have issued the Spring 2021 Van Wickle Ventures Challenge to raise more capital for this extraordinary student group to continue their hands-on investment education.
LEARN MORE
We are partnering with The Center for the Study of Race and Ethnicity in America (CSREA) to bring together students from across the University to create innovative solutions that address anti-Black and systemic racism. Receive grants from $250 – $2,500 to help make your idea a reality!
LEARN MORE & APPLY
Our Thayer Street Home
We are thrilled to announce that the Nelson Center for Entrepreneurship will have a dedicated home at the center of college hill. This building will do so much more than to provide physical space; it will further our mission of making entrepreneurship an essential part of the Brown experience.
LEARN MORE
ENTREPRENEURSHIP AS PROBLEM SOLVING
Brown has always been fertile ground for entrepreneurship. It's true for the students who choose to study here, for the faculty who teach and conduct their research here, and for our alumni once they leave College Hill.
ABOUT US
"We do "hubs" really well. Our Nelson Center for Entrepreneurship is fast becoming one of the most impactful hubs on campus. There, students hatch ideas, launch ventures, and hone entrepreneurial skills — not just in business, but in how business can transform lives."
– President Christina Paxson
STAY IN THE LOOP
Want to know what's going on in the Brown entrepreneurship community? Sign up for our email list to receive the latest news on campus, tips on resources and events, and a little bit of inspiration to help you take your own entrepreneurial activities further.
Be sure to select "manage your preferences" to receive catered updates!
Upcoming Events
Events List Navigation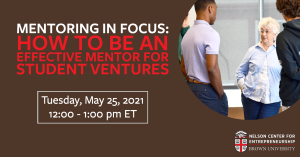 Learning from mentors is an essential part of the student venture experience here at the Nelson Center for Entrepreneurship. We know firsthand that being a great mentor for students isn't always as easy as it seems. Having a breadth of life and startup experience is certainly a necessary foundation, but often as mentors, we need…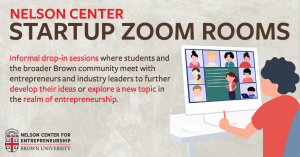 As the host of Real Simple magazine's new Outdoor Upgrade video makeover series and executive producer and host of The Riche Life web series, Riche Holmes Grant '99, Nelson Center Entrepreneur-In-Residence (EIR) will share her best tips for: - Getting comfortable being on camera and polishing your on-camera presence. - Equipping your "studio" on a limited (or…
+ Export Events