B-Lab
Building the next big thing
Brown University's Breakthrough Lab (B-Lab) is an intensive 8-week accelerator program designed to support student entrepreneurs developing high-impact ventures. Each participating team receives access to custom mentoring, a peer cohort of dedicated founders, and co-working space. For teams that require it, B-Lab will also provide access to lab facilities and relevant technical support.
.
"B-Lab provided me with experienced mentors, amazing industry contacts, and constant advice on how to further our venture every week. I'd recommend it to any entrepreneur who'd like the time and space to push their ventures to the next level."
Jillian Cai, B-Lab 2017
co-founder of Akeso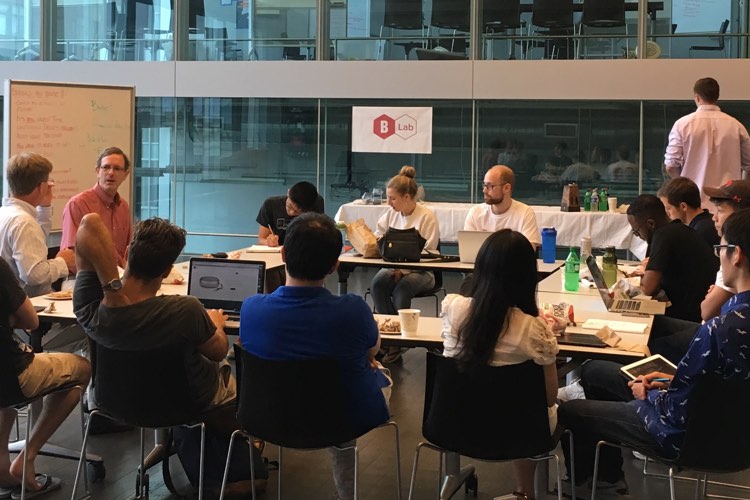 ACCELERATING VENTURES
B-Lab brings together critical resources throughout its 8-week program, designed to help founders strengthen, develop, and advance their ventures. Best of all, the program is tailored to the unique needs of each team. Participants will have access to dedicated space, funding, and a roster of experienced mentors and entrepreneurs. The goal? To help them build the next great thing.
CO-WORKING SPACE
B-Lab Teams have access to dedicated workspace, designed to maximize their venture's progress.
FUNDING
Each B-Lab participant receives a $4000 stipend to enable their summer venture work. We will provide a Summer Earnings Waiver (SEW) to students who need to meet the Standard Contribution (SC) from the Summer Earnings Expectation.
A NETWORK OF SUPPORT
A deep and knowledgeable roster of mentors, industry contacts, and experienced entrepreneurs.
For 2018, we are proud to announce that B-Lab has become a partner in the Google Cloud for Startups Program which makes makes teams eligible for $20,000 in Cloud and Firebase credit, access to Google engineers for office hours and in-depth 1:1 architecture reviews, and 24/7 technical support.
Do I have to be a commercial venture to apply?
Of course not! B-Lab is meant to foster "high-impact" ventures and that impact can be commercial, social, or, in many cases, some blend of the two. What matters most is that it is attempting to address a significant problem and that it has a working hypothesis, and perhaps even some initial findings, about how this might be achieved.
Can I apply as a solo founder?
While we don't have a strict rule against it, we strongly prefer applicants who apply as a team, and ideally ones whose members have worked together prior to B-Lab. Entrepreneurship is a tough undertaking and we have found that it almost always takes a team of people to pull off building a successful venture. As such we tend to place a heavy emphasis on the quality of the team as a whole in addition to the skills and qualities each individual member brings to the table. The ability to work well together is probably one of the highest predictors of success. Hence the old adage: an 'A' team with a 'B' idea is better than a 'B' team with an 'A' idea.
Looking to build or join a team?
We have created this google spreadsheet to help entrepreneurs find each other, meet, and build their networks. There are two tabs. Fill out the one the best describes what you are looking for.
What are you looking for most in applicants?
Above all, we value passion for the problem that they're trying to solve and the willingness to work hard to find a solution. The ability to deal with unclear answers is also a major plus, as well as a certain amount of resilience in order to cope with the inevitable pivots, dead-ends, and doubts that are an unavoidable part of the entrepreneurial process. Other than that, we believe that great entrepreneurs come in all different forms and from all different backgrounds.
How does B-Lab compare to other incubator and accelerator programs?
In many ways, B-Lab is a natural extension of Brown's creative, problem-solving DNA. Our goal is two-fold: (1) to develop world class entrepreneurs, and (2) to develop high quality ventures that can effect scalable solutions to serious problems. Since we are situated within the University, we take a supportive and rigorous approach to both.
As for other programs, we see B-Lab as a springboard for teams to go on to larger, national accelerator programs, and indeed many B-Lab teams do.
How far along does my venture need to be? Just an idea? Revenue? Already closed a seed investment from Marc Cuban?
In truth, a venture doesn't need to be that far along to be ready for B-Lab. A good idea is a great place to start, though we do prefer teams that have taken some thoughtful and concerted action on that idea (talked to prospective users, started building an MVP, etc.). It's also great when a team has taken the time to think through what the roadmap to success might look like and how to get there (knowing, of course, that things can, and do, change quickly, when building a venture).
I'm a RISD Student – am I eligible for B-Lab?
Yes, most definitely! We regularly have RISD participants in B-Lab, and often on several B-Lab teams. In fact, we believe that the Brown/RISD connection is a great source of entrepreneurial activity and innovation. Let's keep it going! RISD applicants are to submit their applications in a single PDF to elizabeth_malone@brown.edu. Click here to access the application questions.
Are international students eligible for B-Lab?
Yes, of course! We just ask that interested applicants visit the Office of International Student and Scholar Services (OISSS) early in the spring semester to ensure that they have filled out all the necessary paperwork to stay in Providence over the summer.
Do I need to be in Providence to do B-Lab?
"Need?" What is this "need" of which you speak? You have the privilege, nay, the honor of staying in Providence during B-Lab!
In all seriousness, we do require that teams stay in Providence for the duration of B-Lab, largely because so much great learning and progress comes from teams working alongside one another. Being here also allows teams to take advantage of all of the great programming and resources that B-Lab provides.
What if I'm working on something deeply technical? Do you support ventures like mine?
Yes, definitely, and we fully recognize that ventures require a wide variety of support, including those that are working on deeply technical problems, including technology originating at Brown. In fact, we work hard to provide as many technical resources as possible (including lab space, technical advisors, etc.) and work hard to tailor the program to the specific needs of each venture.
Can I pursue other Brown-related activities while doing B-Lab?
Our expectation is that B-Lab is your only major workday time commitment. As a serious entrepreneur, you'll be putting significant energy into your venture. Other big distractions from that during normal work hours (UTRA's, RA programs, summer courses, etc.) aren't really compatible with your venture's, and B-Lab's, goals. That said, we want you to live a full and fun life in Providence in your free time. And we'll help that along with great B-Lab social events!