Breaking Down Barriers in the Entrepreneur Space
October 27, 2020 @ 5:00 pm

-

6:00 pm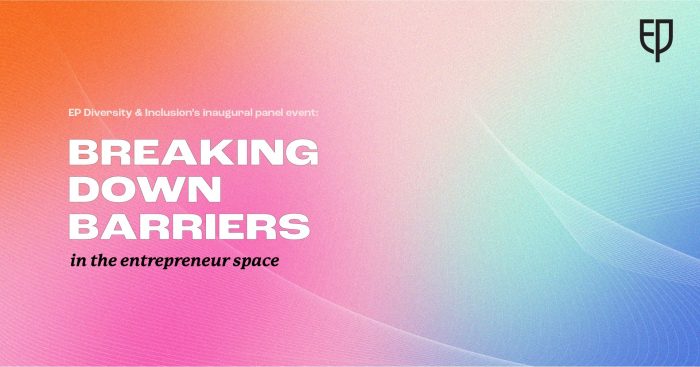 Join Brown EP and the new Diversity and Inclusion Team for their panel event, Breaking Down Barriers in the Entrepreneur Space. Their goal is to foster inclusion, learning, and inspiration. In the process, we strive to provoke conversations that matter. The panel will feature Sarah Carson '02 (Founder & CEO, Leota New York), Ben Harvey '01 (President, Sony's Palm Tree Records), and Lorine Pendleton '91 (Investment Partner, Portfolia—a female-led venture capital firm).
Tell us if you are coming on Facebook / Registration Form 
Zoom link to join: https://brown.zoom.us/j/99994472976
More about the panelists:
Sarah Carson: Ms. Carson graduated from Brown University with a degree in Gender Studies, going on to work as an influential figure on Wall Street for UBS Investment Bank. After being inspired by the principles of feminism, inclusivity, and entrepreneurship, she went on to start Leota New York in 2011. Today, Leota is a global fashion brand that has quickly become one of the fastest-growing, female-led, companies in America. Outside of Leota, she serves on the Board of New York City's LGBTQ+ Community Center as an impactful voice in LGBTQ+ rights and advocacy. Among many accolades, Ms. Carson has been honored as the "Game Changer of the Year" by ACQ5 for two consecutive years and Leota has been recognized among the fastest-growing private companies in America by Inc. Magazine.
Ben Harvey: Mr. Harvey graduated from Brown University with a degree in English. During his time at Brown, Mr. Harvey worked at WBRU, Brown University's commercial alternative rock radio station. Upon graduating, he landed his first major radio gig hosting the night show at Y100 in Philly. Since that initial gig, he has had a prolific career in radio and entertainment, serving as the host of the afternoon show for SiriusXM BPM for six years and later the Program Director of SiriusXM chill. Mr. Harvey is currently the president of Palm Tree Records, an international joint-venture with Sony Music Entertainment for the cultivation of emerging artistry in dance & electronic music. He is also the founder of Bender Studios LLC, an online music/entertainment podcast, and a co-founder of GUMBO NYC, an events production group specializing in niche market parties and events that received several accolades from New York Magazine, Time Out, and Out Magazine. Among his many accolades, Mr. Harvey was the recipient of the National Lesbian and Gay Journalists Association Excellence in Online Journalism Award in 2007 and named one of Billboard's "40 Under 40 Top Young Music Players."
Lorine Pendleton: Ms. Pendleton graduated from Brown University with a degree in Economics and Computer Science and then earned a J.D. from the New York Law School in 1997. In the 2000s and early 2010s, she applied her expertise in intellectual property (IP) law through a variety of leadership positions at Morgan, Lewis & Bockius, Howrey, and Simpson, Thatcher & Bartlett. Her experience in IP litigation led her to become more directly engaged in venture capital in the 2010s. Over this past decade, Ms. Pendleton has become a distinguished leader in American venture capital for her work empowering female, LGBTQ+, and Black founders. Since 2013, she has been a member of Pipeline Angels, which trains women to become angel investors for social-benefit enterprises. She has also served as a Venture Capital & Investment Partner at Portfolia since 2016. Through Portfolia's Rising America Fund, Ms. Pendleton leads investment in early-stage and growth companies founded by members of the LGBTQ+ community and people of color. Portfolia is ranked in the top quartile of all American venture funds. And last but certainly not least, Ms. Pendleton has been a board member at the Angel Capital Association, the world's largest professional development and trade organization for angel investors, since 2018.