Anthony Burn '16 (IE-Brown MBA): Office Hours
September 10, 2019 @ 2:00 pm

-

4:00 pm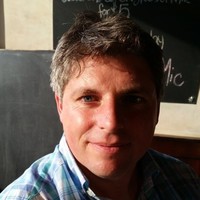 I have always been fascinated by the application of technological innovation to solve global issues, but within equal innovation in our politics and commerce, to help that technology achieve its greatest potential to transform lives and societies.
Previously, I was with the Radiant Earth Foundation, an organization dedicated to providing open access to global 'big data', with a new suite of geo-spatial and analytical tools for economic development for organizations like the International Red Cross, the Pulitzer Center for Crisis Reporting, and Catholic Relief Services. Tools designed to accelerate opportunity and entrepreneurship worldwide, through the ability to locally harness the rapid convergence of geo-spatial imagery, Artificial Intelligence, Mobile, Cloud, and BlockChain, for common, powerful applications in very different contexts and areas. Before joining Radiant I was a senior consultant for two technical agencies of the United Nations with a development and humanitarian relief focus. My primary role was the adoption of emerging technologies into the United Nations Operational Programs across multiple sectors, to build based greater resilience and responsiveness into Disaster Management globally, while also pursuing broader development and capacity building objectives.
This followed on from a lead project role with the Center for the Advancement of Science in Space (CASIS) and NASA, working with multinational organizations and commercial companies, to deploy emerging data technologies on the International Space Station (ISS), with a humanitarian focus. Concurrently, I was also a Senior Policy and Research Fellow at the Center for Climate and Security, focusing on satellite technologies, climate change and state stability.
I have also spent significant time in the private sector, including in commercial space and aerospace primes based in the United Kingdom and North America, providing specialist services around the integration of satellites, drones, and ground-based robotics solutions for
government and commercial clients.
I am a graduate of IE Business School and Brown University (dual executive MBA program). Through IE and Brown, I worked with a global multi-national to identify appropriate adoption of new technologies into the global vaccine supply chain in emerging markets. Finally, I volunteer for leopard and rhino conservation charity based in South Africa, on ways to improve animal tracking through low-tech, low-cost satellite and UAS solutions, with the intention of scaling up for wider conservation use.