How Brown Alumni are Creating Sustainable Solutions in the Fashion & Retail Industry
April 16, 2021 @ 12:00 pm

-

1:00 pm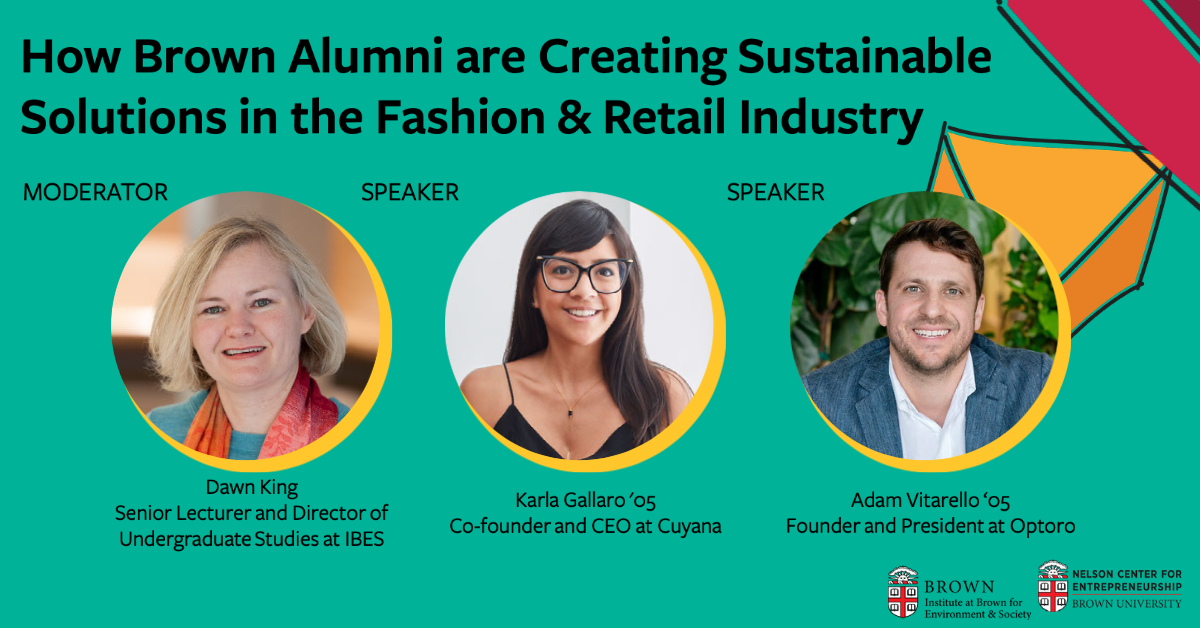 Join us in welcoming Adam Vitarello '05, Founder and President of Optoro; Karla Gallardo '05, Co-founder of Cuyana; and Dawn King, Senior Lecturer in Environment and Society (IBES) for a discussion on sustainable venture creation. Dawn King will lead the discussion to help these founders and entrepreneurs share how they are changing the future of sustainability when it comes to innovative business models, supply chain, and product development in the fashion and retail industry.
Optoro is a platform that solves the problem of retail returns which are painful for customers, retailers and the planet, generating over 5 billion pounds of landfill waste each year. Cuyana is a B2C company that encourages customers to purchase fewer but better-quality pieces that they will love and treasure for years to come. They produce responsibly, support customers in the repair and care of the items, and extend the product life through the Lean Closet program.
Register here to attend the event. 
The event is co-sponsored by the Nelson Center for Entrepreneurship and the Institute at Brown for Environment & Society.
—
Speaker – Adam Vitarello '05, Founder and President of Optoro 
Adam is the President and co-founder of Optoro, a DC-based technology company focused on solving the problem of retail returns. Optoro works with leading retail brands such as IKEA, Best Buy and American Eagle to better re-purpose returned goods. Optoro has been recognized for its efforts to make retail more sustainable – including winning the Circular Economy Enterprise award at the World Economic Forum – and has raised over $200M from leading firms, including Kleiner Perkins & Generation Investment Management (led by Al Gore). Adam attended Brown University, where he received his BA in 2005 in History & International Relations.
Speaker – Karla Gallardo '05, Founder of Cuyana 
Karla started Cuyana alongside co-founder Shilpa Shah with the vision of creating a global design house that inspires intentional buying through pieces that are crafted with integrity. After growing up in Ecuador, Karla moved to the United States where she earned her Bachelor of Science in Applied Mathematics from Brown University and then joined Goldman Sachs, where she developed the tools to turn her dream of a fewer, better fashion brand into a sustainable business with the numbers to back it up. Karla then earned her MBA from the Stanford Graduate School of Business, where Cuyana was born. Since launching in 2011, Cuyana has become a go-to brand for women searching for beautiful yet functional pieces built to endure their everyday. Most recently, Karla was named one of Entrepreneur's 100 Powerful Women, and she continues to share the fewer, better philosophy with women around the world.
Moderator – Dawn King, Senior Lecturer and Director of Undergraduate Studies at IBES
Dawn earned her Ph.D. in Political Science/Environmental Policy at Colorado State University, and teaches courses on Urban Agriculture and Energy Policy. She currently serves as the chair of Red Tomato's Board of Trustees and previously served as Chair of the Rhode Island Food Policy Council. Her current research investigates the role of regional food distribution systems in increasing economic development at the state and local level as well as the food system's role in mitigating and adapting to climate change.  She is especially interested in what policies, initiatives, and land-use planning decisions best strengthen sustainable, local food economies and how these policies impact underrepresented populations.