Brown EP Presents: Women in Healthcare Entrepreneurship Panel
March 30, 2021 @ 6:00 pm

-

7:00 pm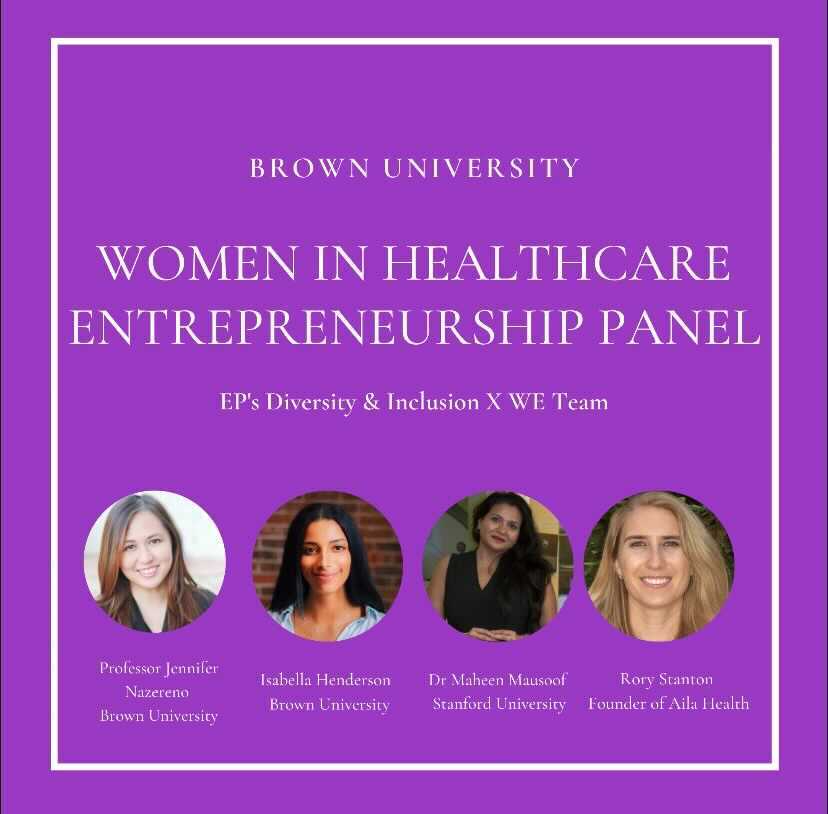 In honor of Women's History Month, Brown EP is bringing together women from across the healthcare sector to build community knowledge of the struggles, opportunities, and work being done in the field. We strive to foster learning, inspiration and provoke conversations that matter.
Panelists include:
Professor Nazereno: Assistant Professor at the School of Public Health, Department of Behavioral and Social Sciences and at the Jonathan M. Nelson Center for Entrepreneurship. She received her Ph.D. in Medical Sociology from the University of California, San Francisco (UCSF) Department of Social and Behavioral Sciences. Professor Nazareno's dissertation won the UCSF Anselm Strauss Award for Most Distinguished Qualitative Dissertation.
Isabella Henderson: Brown University graduating senior concentrating in Health and Human Biology with a theme in the Social Context of Health. She is the Clinical Research Lead at Intus Care and develops interventions and strategies for long term care organization. She has previous experience working at Harvard Business School and Boston Medical Center, and she has conducted preliminary research on health systems in four continents. After a gap year, she plans on attending medical school.
Dr. Maheen Mausoof Adamson: Clinical Associate Professor of Neurosurgery at Stanford School of Medicine and Clinical Research Director for Rehabilitation Services at VA Palo Alto. She is a neuroscientist-health care leader experienced in building clinical research centers from bottom-up via a global network in academic hospital environments, managing an innovative research portfolio and a team of clinicians, researchers and administrators.
Rory Stanton: Founder of Aila Health, which is an AI-enabled precision health management platform empowering chronic illness patients with personalized health at home. Aila's integrative virtual care platform uses multi-dimensional data to help health care providers deliver whole person healthcare. She is very passionate about data-driven healthcare.
Zoom Link: https://brown.zoom.us/j/9696240285