A Conversation with Waterfire Founder, Barnaby Evans, '75
October 14, 2022 @ 5:30 pm

-

6:30 pm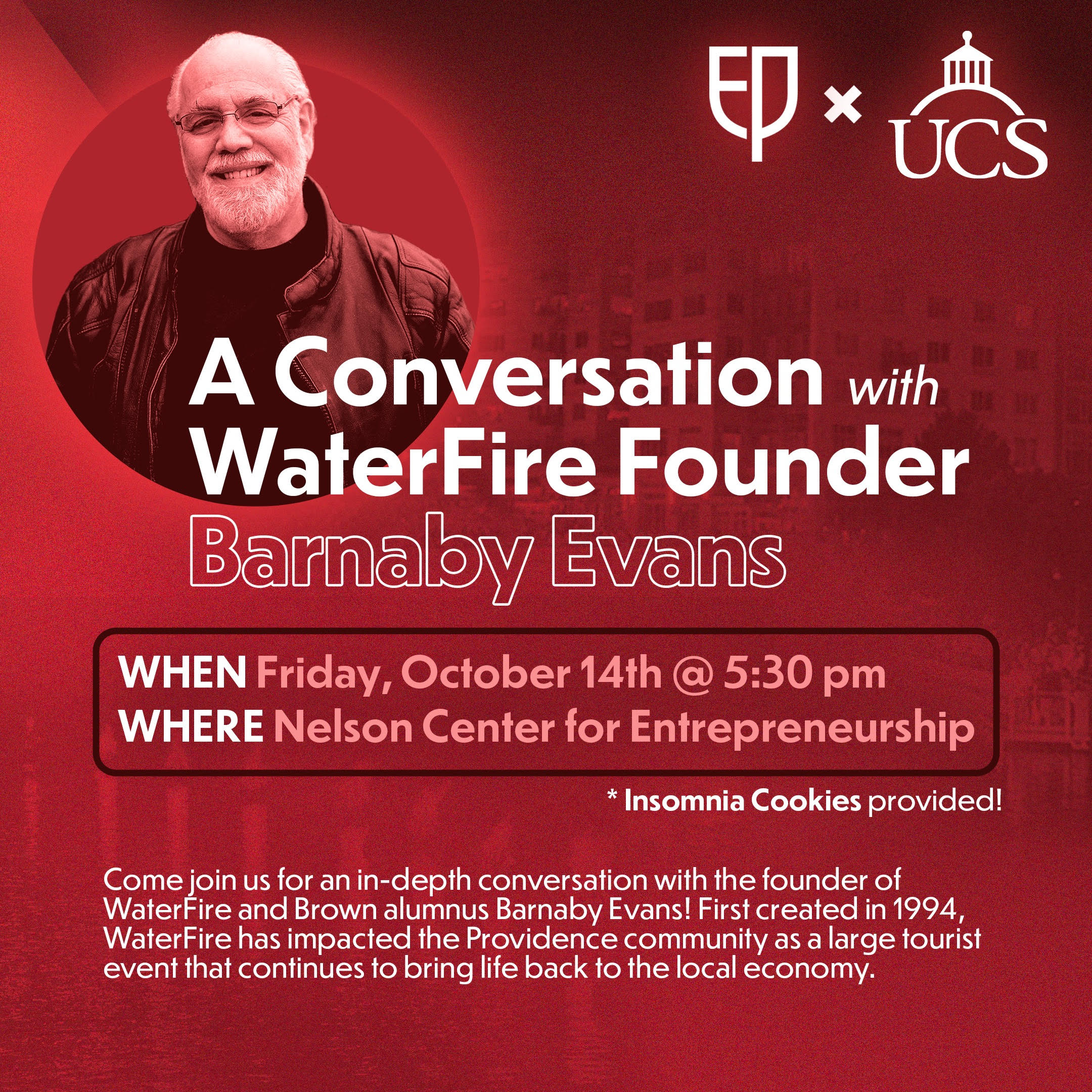 The Brown Entrepreneurship Program, in collaboration with UCS, invites you to an in-depth conversation with the founder of WaterFire and Brown Alumnus, Barnaby Evans, '75.
WaterFire has captured the hearts of over ten million visitors through an award-winning work of art installed on the three rivers of downtown Providence.
Barnaby Evans received his ScB in biology and environmental science from Brown University in 1975.  He was awarded an honorary Doctorate of Humanities by Brown University (2000), an honorary Doctorate of Fine Arts by Rhode Island College (2000), an honorary Doctor of Humane Letters from Roger Williams University (2016) and an honorary Doctorate of Fine Arts by Providence College (2017). Evans also received the Aaron Siskind Fellowship in Photography, several fellowships from the Rhode Island State Council on the Arts, the Silver Prize for Colour Photography at the International Triennial Exhibition (in Switzerland) and WaterFire has been discussed in hundreds of articles and included in symposia in Helsinki, Barcelona, Montreal, Seoul, Venice, New Zealand, Amsterdam, Rome, Minneapolis, Philadelphia, Chicago, Baltimore, Houston, Cooperstown, Columbus, Syracuse, Colgate, and Los Angeles. WaterFire also has been studied and written about in numerous urban studies and public art texts and has appeared in novels, poems, and films.
Barnaby Evans created WaterFire in its first version in 1994 in Providence and in its second version in June of 1996 for the International Sculpture Conference and the Convergence International Arts Festival in Providence.  Evans also created WaterFire Houston in 1998 and Evans has created installations of WaterFire in Rome, Singapore, Houston, Columbus, Tacoma, Kansas City, and Sharon. Evans is actively engaged in projects in Venice, Berlin, and Paris and is currently exploring art installations for a number of cities.
Find us at the Nelson Center for Entrepreneurship (Across from the Brown University Bookstore and above Shake Shack) on Friday, October 14th at 5:30 pm to learn how an idea turned into a large tourist event that revitalized Providence's local economy!