Entrepreneurship Research Series | Featuring: Professor Tristan Botelho
March 3 @ 12:00 pm

-

1:00 pm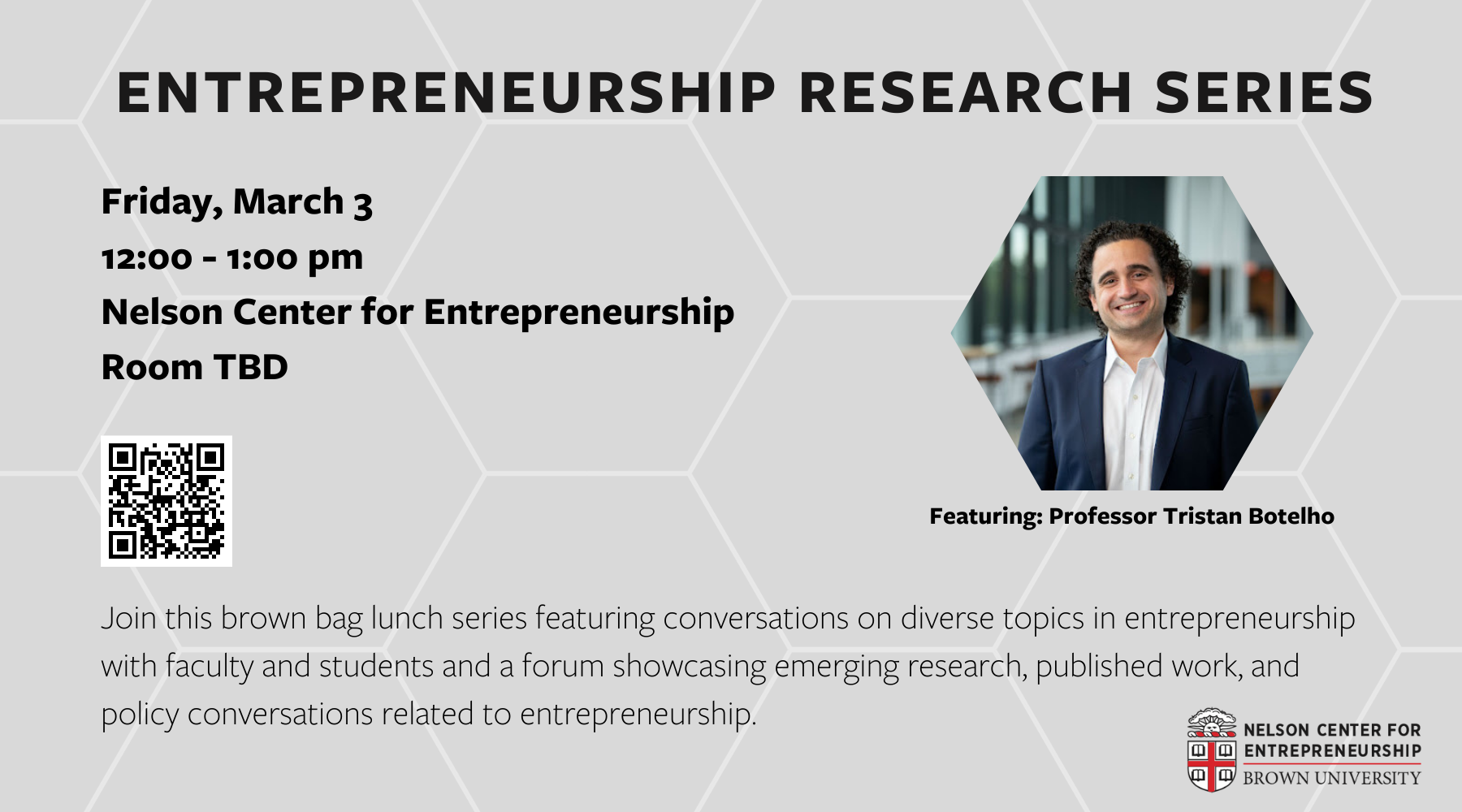 This brown bag lunch series will feature conversations on diverse topics in entrepreneurship by faculty and students. It'll be a forum to showcase emerging research, published work, and policy conversations related to entrepreneurship.
The Customer Cancellation Gap: The Drivers of Racial/Ethnic Disparities in On-Demand Work
Research has only recently highlighted the role of precarity as a driver of racial/ethnic inequality in the workplace. Expanding the literature's focus on organizational and supervisory factors that precipitate precarious work, we theorize that customer uncertainty about worker quality is a primary driver of precarity in the increasingly prevalent domain of on-demand work. We use data from a home-services platform that matches customers with workers on a first-come, first-served basis to perform on-demand jobs (e.g., maintenance, plumbing) across different cities. Using nearly 100,000 unique customer-worker matches over four years, customers were 23.7 percent more likely to cancel when matched to non-white workers than to white workers, even when we consider within-customer models and proxy for worker quality. Approximately 30 percent of the cancellation gap is explained by workers sorting into specific service categories. We provide novel evidence that reducing customer uncertainty about workers' expected quality substantively attenuates the remaining disparity. Up to 50 percent of the cancellation gap is reduced as customers and workers gained experience on the platform, when non-white workers' high rating is provided to customers, and when non-white workers have a job-related certification. We further demonstrate additional sources of precarity related to worker effort and lost time.
About Tristan Botelho
Tristan Botelho is an Associate Professor of Organizational Behavior and a Faculty Affiliate of the Program on Entrepreneurship at the Yale School of Management. His research focuses on evaluation processes in professional contexts to better understand questions related to bias/inequality, entrepreneurship, and labor markets, with frequent overlap across these areas. A common theme of this work is how the structure of evaluation processes affect observed outcomes and driving mechanisms. The data for his work often comes from collaborations with technology-focused startups and other archival sources, as well as field experiments. His research has been published in leading journals, such as Administrative Science Quarterly, Management Science, and Organization Science, and has been recognized with several awards. He teaches the core MBA and EMBA course on entrepreneurship and innovation. Prior to joining Yale, Tristan received his PhD from the Massachusetts Institute of Technology Sloan School of Management in 2017.
Related Events