Founder Fridays: How Classmates from '87 went from the Startup World to World Class Investors
February 2, 2018 @ 12:00 pm

-

1:00 pm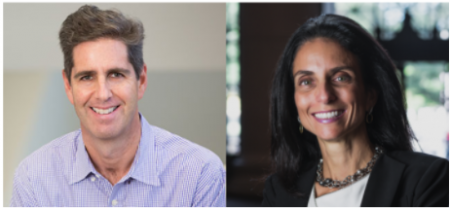 Marina Hatsopoulos '87 is an entrepreneur, angel investor and a transformational leader in the 3D Printing world. Before her entrepreneurial career started, she studied music and math at Brown and graduated magna cum laude. She then went on to receive her master's in mechanical engineering at MIT. In 1994 she became the founding CEO and primary investor in the 3D printing "Z Corporation" until its sale in 2005. Marina has also held positions as the director of Cynosure, GSI Group and Contex Holding, as well as an investor and director of Tea Forte. Other than being a successful entrepreneur, Marina serves on corporate boards, provides seed funding to emerging technology businesses in the US and Greece, and is an active writer of fiction and creative non-fiction. Read more about her story here.
If you have taken ENGN1010, The Entrepreneurial Process, you may recognize Scott Friend '87 from the HBS Case Study "ProfitLogic". Before his entrepreneurial journey started, Scott graduated magna cum laude from Brown with a concentration in electrical engineering and economics. After a few years at IBM, he went on to study at HBS and received his MBA. Soon after his MBA, Scott found himself building one of the world's leading retail analytics and price optimization software solutions, ProfitLogic. Scott joined Bain Capital Ventures in 2006 after selling the company, where he primarily focuses on investing around retail and retail-related technology, both online and offline, as well as the convergence of the two.  In 2005, Scott was named a winner of the Ernst & Young "Entrepreneur of the Year Award" in New England, among other awards. Read his bio here.
Be sure to register below. Kabob and Curry served for lunch!