Founders Series: Featuring Scopely Co-Founder & Co-CEO, Walter Driver
February 11, 2021 @ 6:00 pm

-

7:30 pm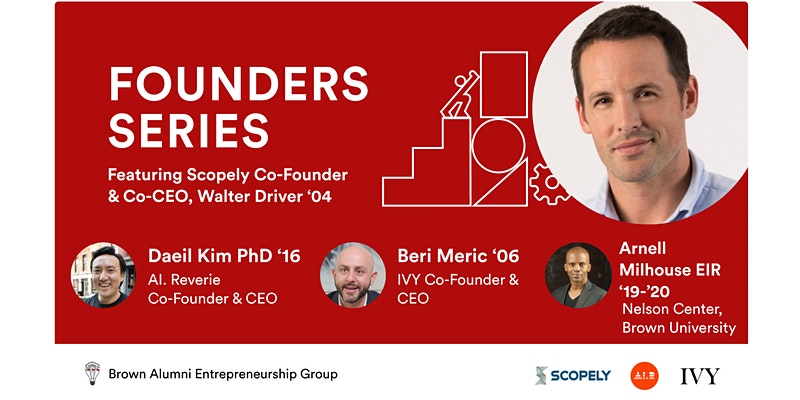 The third event of the Brown Alumni Entrepreneurship Group Founders Series features Walter Driver '04, Co-Founder & Co-CEO of Scopely, an interactive entertainment company and mobile games developer and publisher valued at over $3 billion, Daeil Kim PhD '16, Co-Founder & CEO of AI. Reverie, a provider of synthetic data and vision APIs, and Beri Meric '06, Co-Founder & CEO of IVY, a community for entrepreneurs, creatives, and professionals. The event is hosted by Arnell Milhouse Nelson Center EIR '19-'20.
Speakers
Walter Driver '06, Co-Founder & Co-CEO, Scopely
Prior to Scopely, Walter founded and served as CEO of O Negative Media where he developed online social games. Before O Negative, he co-founded Ignition Interactive, one of the first developers of third-party applications for Facebook. Outside of his work on Scopely, he is an investor and advisor to private technology companies as well as a member of the Young Presidents' Organization and Mayor Eric Garcetti's Los Angeles Technology & Innovation Council. Walter holds a B.A. in English Literature from Brown.
Daeil Kim PhD '16, Co-Founder & CEO, AI. Reverie
Prior to founding AI. Reverie, Daeil was a Senior Data Scientist at the New York Times, where he worked as part of the core New Markets team that launched NYT Español and served as a Research Associate at Mind Research Network, where he developed new techniques and methods for fMRI analysis. He holds a B.A. in Literature from Sarah Lawrence College and a Ph.D. in Computer Science from Brown.
Beri Meric '06, Co-Founder & CEO, IVY
Prior to founding IVY, Beri worked at Morgan Stanley in M&A and Strategy. He holds an MBA from Harvard Business School and a B.A. in Economics and International Relations from Brown.
Host
Arnell Milhouse, Nelson Center for Entrepreneurship EIR 2019-2020
In addition to his role as an EIR at Brown, Arnell is the Founder of the CareerDevs Computer Science Institute, a leading supplier of software engineering talent in Rhode Island, and IntraCity Geeks, a K-12 STEM education organization. He received a degree in Business Management and Computer Science from Johnson & Wales University.