Spurring Social Innovation in Latin America
March 11, 2019 @ 12:00 pm

-

2:00 pm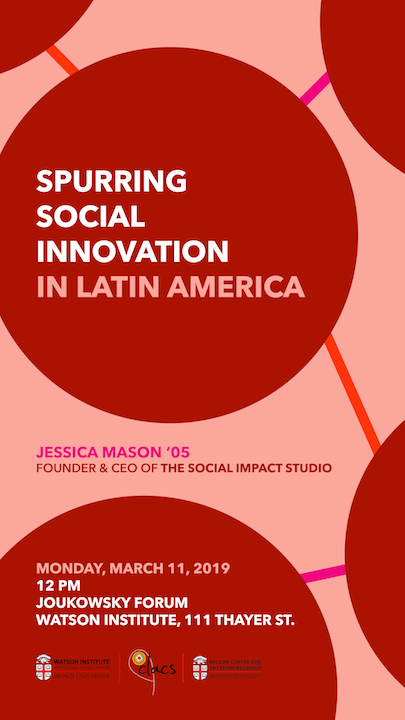 Jessica Mason '05 is an entrepreneur, strategist, and designer with deep experience leading innovation ventures in the social and public sector. With professional experience on six continents, she is known for bringing keen insight and clarity to complex projects and for championing the value of the creative process for social good. Prior to founding The Social Impact Studio, Jessica worked at the Center on the Developing Child at Harvard University where she directed a portfolio of social innovation labs in Latin America and served as the technical expert on innovation methods. She is a certified facilitator and coach of human-centered design, an instructor at the LUMA Institute, an Exec Ed Instructor at Harvard University, and a faculty member at Foster America.
She holds an A.B. Magna Cum Laude from Brown University, an Ed.M in International Education Policy from Harvard Graduate School of Education, and postgraduate certificates in Behavioral Science and International Business Management from the Harvard Kennedy School and Georgetown University, respectively.
This event is hosted by the Center for Latin American and Caribbean Studies at the Watson Institute and co-sponsored by the Nelson Center for Entrepreneurship. 
*******************************************************************************************************************************************
The Entrepreneurship Research Seminar is an interdisciplinary speaker series based at the Jonathan M. Nelson Center for Entrepreneurship. The seminar seeks to bring a diverse range of scholars and practitioners to Brown to present novel research and thinking on the trends and challenges of national and global entrepreneurship. The seminar draws on faculty associated with the Nelson Center for Entrepreneurship and a growing community of graduate students at Brown. The seminar is directed by Dr. Jennifer Nazareno.