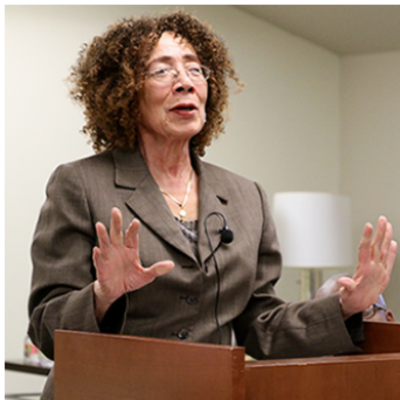 Juliet E.K. Walker, Ph.D.
Professor of History, University of Texas, Austin

Juliet E. K. Walker is the founding director of the Center of Black Business History, Entrepreneurship, and Technology. Her scholarship has provided the foundation for recognizing black business history as a subfield in African American history. She is the author of the first comprehensive book on black business history, The History of Black Business in America: Capitalism, Race, Entrepreneurship (1998), which was reissued in 2009 with a new chapter, "They Never Had A Chance: Black Business in the Crossfires of the American Civil War, 1861-1865." Her Free Frank: A Black Pioneer on the Antebellum Frontier (1983) details the entrepreneurial activities of slave-born Frank (1777–1854), Dr.Walker's great great grandfather, who purchased sixteen family members from slavery using profits from slave and free enterprises, and who was the first African American to legally plat a town in 1836. Free Frank, his business activities as both a slave and free Black in addition to his town New Philadelphia were the topics of Dr. Walker's 1976 University of Chicago PhD dissertation under the eminent African American Scholar, Dr. John Hope Franklin.
Dr. Juliet E. K. Walker began teaching the first-known college course devoted to Oprah Winfrey as noted in Smithsonian's National Museum of African American History and Culture's exhibit in June of 2019, "Watching Oprah: The Oprah Winfrey Show and American Culture,". The exhibit featured Dr. Walker's course syllabus from a course she taught entitled "Oprah Winfrey, the Tycoon" at the University of Illinois at Urbana-Champaign.
Walker's research enabled the town site, New Philadelphia, Illinois, to be named a National Historic Landmark. She is also the editor of the Encyclopedia of African American Business History (1999) and the author of some ninety articles and scholarly essays. Walker has held a senior Fulbright fellowship in South Africa and a Princeton Davis International Center fellowship, as well as fellowships from the Rockefeller Foundation, the Ford Foundation, and the National Endowment for the Humanities at Harvard University's W.E.B. DuBois Research Institute. She has won twelve publication awards and three-lifetime achievement awards: the Carter G. Woodson Scholar's Medallion from the Association for the Study of African American Life and History; the Indiana University-Purdue University Indianapolis Madame C.J. Walker Lifetime Achievement Award, and the Business History Conference Lifetime Achievement Award. She is currently completing a book, "Oprah Winfrey: An American Entrepreneur."